What Buyers and Sellers Need to Know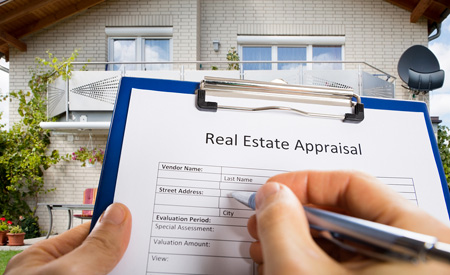 When a buyer is securing a new loan to purchase a home, the buyer's lender will require an appraisal of the property to determine its fair market value.
The lender will collect an appraisal fee (expect $400 – $600) from the buyer once a purchase contract is accepted and the buyer is ready to move forward with their loan application.
A state licensed home appraiser will be selected by the lender to research the property and compare it to nearby homes that have sold in the last six months and are similar in size, age, construction and amenities.
The appraisal differs from a Comparable Market Analysis (CMA), which is an estimate of your home's value done by your REALTOR® to establish a listing or offer price. An appraiser will use similar methods in arriving at a property's value, but they must also follow strict licensing and industry guidelines and adhere to Uniform Standards of Professional Appraisal Practices.
The appraisal process
The appraiser will make an appointment to see the home and it will take about 30 minutes to an hour to look over the property. The appraiser will measure the home, draw a representative floor plan, take photographs inside and out, and review the property's condition, specific improvements and amenities.
Seller's can help the appraiser by providing a list of any improvements and remodeling projects since purchasing the home, along with an approximate dollar amount of each improvement.
Keep in mind that remodeling projects rarely bring a 100 percent return on investment, but a list will ensure the appraiser doesn't overlook the upgrades or added features when comparing the home to others. The appraiser will then provide a written appraisal report to the buyer's lender within a few days of visiting the property.
After the appraisal
In some cases (particularly if the buyer is obtaining a government backed loan) the lender may require additional repairs not negotiated as part of the purchase contract before they will lend money for the purchase. Once the repairs are made, the appraiser will have to return to review the required repairs, and a re-inspection fee is usually charged.
For example, if the buyer is applying for an FHA or VA loan, the property must be free and clear of health and safety hazards. VA and FHA appraisers must denote visible defects that affect structural soundness, such as wall and foundation cracks, signs of settlement, water pooling, termite infestation; faulty plumbing, roofing, electricity, heating and air conditioning systems. Both programs abide by a different set of property standards; however, the criteria is aligned in most ways.
In some cases, sellers may need to correct deficiencies identified in an appraisal, or make improvements, before the lender gives final loan approval to the buyer.