Area Information
Green Valley, Ariz., founded in 1964, is a vibrant retirement community, and gateway to historic Southern Arizona, located just 20 miles south of Tucson on Interstate 19, near the base of the Santa Rita Mountains and along the western side of the Santa Cruz River. Green Valley offers an affordable cost of living and the high desert environment is more lush than first-time visitors would expect in Arizona's Sonoran Desert.
Green Valley retirees and active adults enjoy the warm Southern Arizona climate, laid back lifestyle, and amazing amenities available throughout the area, including championship golf, hiking, bird watching and more than a dozen recreational facilities offering swimming, fitness centers, tennis, pickleball, and a variety of social and leaning options.
Read the community profile at: Where to Retire magazine.
Age Restrictions
Green Valley has been an active-adult, retirement community since its inception, and many of the neighborhoods and Home Owner's Associations are "age-restricted." Where age restrictions apply, at least one occupant of the residence must be age 55 or older, and there can be no permanent residents under age 18. Age restrictions apply to occupancy only, not ownership.
Please call or email to inquire whether a home or neighborhood you're interested in has an age restriction. To learn more about the Fair Housing Act and exemptions provided under the Housing for Older Persons Act of 1995 (HOPA), the U.S. Department of Housing and Urban Development (HUD) has provided this helpful HOPA questions and answers document.
Climate
Southern Arizona is famous for its mild winters and clear blue skies. While we do reach the occasional 100+ temperatures during the summer months, evening hours and summer nights are mild with temperatures typically in the low to mid-70's. Winter months bring average daytime highs around 60-70 degrees, with cool nights averaging around 40 degrees, however it is not uncommon for overnight lows in January to dip below 30 degrees. Elevation is 2,980 ft.
Our desert climate boasts about 300 days of sunshine annually, with average rainfall of about 13 inches per year, making Southern Arizona and Green Valley an outstanding location for year-round outdoor activities.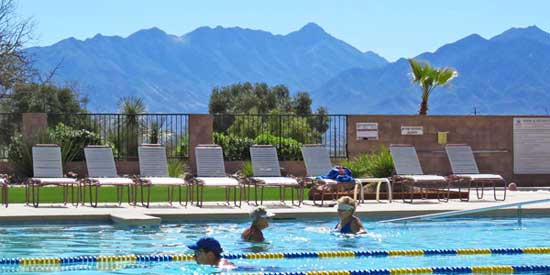 Green Valley Recreation (GVR)
Part of what makes Green Valley unique is Green Valley Recreation, Inc. (GVR), a non-profit organization operating 13 recreation centers, giving members unlimited possibilities for play, leisure and learning in this active 55+ community.
Membership in GVR is deeded to the property itself, meaning membership is automatic, and passes from owner to owner each time a property sells. If you're purchasing a home with an existing GVR membership, you'll pay a one-time "Membership Change Fee" of $2,816 at close of escrow, plus annual dues of $505.
GVR members have access to 13 centers' pools and spas, six fitness centers, tennis, pickleball and other sports courts, over 1,000 classes and lectures, professional arts and entertainment, and more than 60 clubs of various interests. The amenities offered by GVR are unmatched by any other master planned retirement community in the world.
This directory is provided as a courtesy to area residents and visitors, and is not intended as an endorsement of any business, product or service.