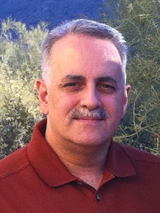 Raving Fans
Client Testimonials for Russ Fortuno
Whether you're looking to buy or sell a home in Green Valley or Sahuarita, you'll experience unsurpassed service and professionalism at all stages of your real estate transaction. I welcome the opportunity to assist in your next home sale or purchase.
A great experience from beginning to closing
Moving to a different state can be somewhat overwhelming. We found Russ' website and knew we needed to see him in person. We were not disappointed. He is extremely professional and being an out-of-state buyer, we definitely needed a Realtor we could count on. He was so helpful in finding the right house for us that it didn't take long to make an informed decision. We wouldn't hesitate to recommend him to anyone Thanks, Russ for making this a great experience from beginning to closing.
Honored to Recommend
My husband and I are honored to recommend Russ Fortuno as the most efficient and professional real estate professional we have had. We feel very blessed to have found Russ while we were still in North Carolina. We planned to relocate to Green Valley, AZ and were interested in establishing a rapport and receiving listings prior to moving cross-country. By the time we arrived Russ pretty much knew what we were looking for. Even though the inventory was not terribly plentiful at the time we found our home the very first day we went looking!!! In addition to helping us find the perfect home, Russ was wonderful to refer us to local contractors and professionals in our area. He is a wealth of information and took the time to answer any questions we had. We also felt the step-by-step timeline Russ includes in his service was very helpful.
A Class Act
From start to finish, Russ Fortuno was "a class act." It started with his online Home Buyer's Guide which was helpful to me, a first-time, out-of-state buyer. His new listing email notifications were timely and helped me get familiar with the Green Valley properties that fit my budget. Then when I was ready to buy, he represented me as a buyer's agent. He professionally led me through the entire process with great knowledge of the available properties, as well as the subsequent offer and purchasing process. I found Russ to be very clear and direct. He went above and beyond what I expected. Even after the closing, he arranged the removal of some unwanted furniture and helped me identify cleaning and painting services in the area, something few other agents would do. I would highly recommend his services to anyone without reservation!
Very Professional and Thorough
We found Russ to be an excellent Realtor. He was so easy to work with, very professional and thorough. He was always prompt to respond to our calls and emails. We were a bit nervous at first, because we were out of town buyers, but Russ quickly put us at ease. He sent us many potential prospects but he was never pushy. It was so nice to work with someone so honest. We would highly recommend using Russ to anyone who was looking to buy or sell.
I Would Recommend Without Hesitation
Russ was a pleasure to work with. Being we're in Seattle and buying in Green Valley, Arizona, Russ made the process very easy and comfortable. The transaction, with the help of Russ, went smoothly and without any hitches. He was quick to respond with any concerns or questions. I would recommend him for your real estate needs without hesitation. Having first hand knowledge of Green Valley was a bonus for us.
We would use him again in a heart beat!
We were out-of-town buyers and bought our condo sight unseen. First time ever we did this but Russ helped us every step of the way. He sent us videos of the condo, showed the condo to our friend who lives in Green Valley, set up home inspections, and explained differences in Arizona real estate laws/processes to us clearly. He also sent us a timeline on when specific tasks needed to be completed, and he was always available to discuss questions or concerns. We never felt pressured – only felt that we were working with a professional who was looking out for our best interests. We would use him again in a heart beat!
You cannot go wrong with Russ
Russ Fortuno is a 5-Star professional who I highly recommend without reservation. He is knowledgeable, experienced, prompt, efficient, polite, fair, honest, and very personable. We interviewed four real estate agents and he was far and above the most experienced, proficient, and knowledgeable. He gave us excellent advice on how to prepare the house for the market, and directed us on having an estate sale. He sold our house in Green Valley, AZ before it even went on the market, and did an excellent job negotiating a fair price. Our entire family was thrilled with the service he provided to us. You cannot go wrong with Russ Fortuno.
Russ has been there for us every single step of the way
E.W., Sahuarita AZ
I can't say enough about what an outstanding job Russ did for us! We decided to retire to AZ and after touring several areas in the state, we chose the Tucson area. I found Russ online and reached out to him to help us find our retirement neighborhood and home. Russ spent a day showing us all of the different neighborhoods in both Sahuarita and Green Valley that met our requirements and were within our budget. By the end of the day, we had chosen four neighborhoods. Russ then found four homes for sale in our chosen neighborhoods; two in our favorite! The next day, Russ took us to tour the four homes and by the end of the second day, we made an offer. We are relocating from Kentucky and Russ has been there for us every single step of the way. He has been invaluable in making this entire experience smooth and exciting for us! His service after the sale has been equally exemplary!
Professional in the Best Sense of the Word
Russ was impressive from the first moment we met him. We were looking at a property in a complex where he just happened to be previewing a unit. We asked if he was a real estate agent and he dropped what he was doing to show us some properties in the same complex. From that moment forward he was attentive, responsive and showed us that he knew the area and was helpful in looking for the right property for us. He got us through the process with ease and even went the extra mile in the offer process to make sure we made the best effort to secure our choice. Can't say enough about him. Russ is truly a professional in the best sense of the word.
Quality Customer Service
Russ helped us make our retirement dream a reality. We met Russ in July of 2018 when we made our first house hunting trip to Green Valley, AZ. He listened carefully to what we were looking for in a home and presented us with a list of houses that met our criteria. He helped us through two failed sales on our out of state home and when our home sold after five months on the market Russ was ready to help us with our home purchase in AZ. He stayed on top of all the important dates, provided us with a wealth of information about the area and links to all the required utilities. Moving is very stressful but Russ took a lot of the stress away with his commitment to quality customer service.
Russ Walked on Water for Us
It's hard to know where to start. Russ walked on water for us. He must memorize every listing the morning it lists. He knew exactly what we wanted and found our perfect house the morning it came on the market. We came from northern Washington and had already checked several other communities before deciding on this area, and Russ refined our search to meet our needs. Russ was prompt, quick to respond to our phone calls, always kept us in the loop, and just a pleasure to work with. He was on top of every detail and brought us to closing a day early. Yay Russ!
A Superstar Green Valley Realtor
Russ is a superstar Green Valley Realtor. We live in California and bought a house in Green Valley in August 2017. We could not have done it without Russ' up-to-the minute access to listings and we felt comfortable buying on short notice thanks to his local expertise. Plus he was friendly, accessible, and just nice to work with. I highly recommend him for anyone buying in Green Valley.
He is A++++
I was so lucky to find Russ. It's been a long time since I bought a home and working through the stacks of paperwork was daunting! I was so glad to have Russ "be there for me" and to guide me through each step. He was on top of every stage of the home buying process, knew the answers to all my questions and immediately responded (sometimes in minutes). Russ also has a bevy of wonderful local businesses to recommend and a comprehensive website that was exceedingly helpful! You are making a mistake if you don't use Russ to help you purchase your home in Green Valley, he is A++++.
Expertise
As an out-of-state buyer, I needed to find the right person to be my local contact. And Russ was that person. He knows the area and had a lot of patience to show me around. He also did not push his opinion but was willing to give it to me when asked. The end result? With Russ's help I have purchased the right home in the right area for the right price! I never could have done that without the expertise Russ brings to the process."
Service was Flawless
Russ went far beyond my expectations! He not only helped before, during and after my purchase, he has great knowledge of anything I needed information with. This was the BEST Real Estate purchase I've ever made, Russ' service for me was flawless. Thank You Russ!
Could not have had a better Realtor
Could not have had a better Realtor. Property was part of an estate and Russ knew exactly how to take care of everything. Up on values, very helpful and constantly kept me informed with all problems and progress. I am out of state and felt very comfortable with him handling the sale.
Very Impressed
As out-of-town buyers, we were very impressed with how easy it was to buy a house with Russ. We went to Green Valley for a few days and were shown many houses that could have worked for us. We went home to MI and a few days later we were sent pictures of the perfect house. Russ toured the home, arranged for the inspection, made a walk through video for us, and handled the closing! Couldn't ask for anything more! We would highly recommend using Russ as your agent.
Truly the best of the best
We are so glad we found Russ. Sharp website, backed up with an even sharper, stand up guy! Truly the best of the best. This was our 7th real estate purchase. Without question the BEST. To boot, it was from 2500 miles away! Thanks again, Russ.
Russ is the man to see
Russ did a terrific job finding the perfect house for us. If you're in the market for a home, Russ is the man to see. We couldn't be happier and highly recommend, Russ. What a great guy!
Thoroughness in every aspect
Russ, is an excellent agent. I appreciated his negotiating skills, professionalism, and thoroughness in every aspect of my home buying process. I definitely recommend him and look forward to working with him again in the future.
We have complete confidence in him
Russ has handled a number of real estate transactions for us and we've been entirely satisfied with his ability to deal with every aspect in an efficient, resourceful manner. We have complete confidence in him.
Very knowledgeable of the area
Excellent service, he sold the house in 2 days. I will definitely recommend him. He's so easy to work with and very knowledgeable of the area.
Best agent on the planet
Russ is the best agent on the planet, bar none! He came highly recommended to me and I suggest everyone should work with this stellar man. Russ is a fantastic negotiator. I don't think another agent would have been able to seal this deal as well as Russ. He knows when to back off and when to apply pressure. Russ is always a gentleman and treats everyone with respect. He has a good sense of humor and although a bit dry, he really makes you chuckle when the chips are down. I came to Green Valley hoping to have an accepted offer on a house in one week. Russ did it! And, my house is very special. Plus I was on a tight budget. Russ has the patience of a saint and will answer a dumb question 4 times over if need be. His knowledge of local contractors and laws specific to your purchase is more than helpful. Russ has a great knowledge of the area in general and he works to find you just what it is you are looking for. Russ listens. Rare quality in a man, hu? And, he's a dog lover!
Really knows the local market
This is an agent that really knows the local market and market values. We were under contract in 30 days and he was extremely helpful in assisting us through the inspection process that satisfied us and the buyers. We would highly recommend Russ as his realistic estimates didn't mislead us and brought more than we had expected as a sales price. Showings began immediately and he would follow up with each real estate agent that showed our home.
Always going the extra mile
Anytime anywhere he was there, always going the extra mile. He even came to the house and watered trees so they would not die — more then once. What you call real professional, a 10.5 on a 10 scale. I was out of town when the house was listed, so he went to the house and did a video. I didn't see a dishwasher, but he said yes it was there, That was good enough for me, but he went back to the house and took a picture to show me. He kept me informed every step of the process, and followed-up to ask if I had any questions.
I cannot thank him enough
Russ, Went above and beyond for me. Being from out-of-state, he really knew what area I needed and wanted to be in. He had a lot of extra details in this purchase for me. After meeting Russ, he knew the situation I am in and made this move to the area and home perfect for me. I can not thank him enough.
An Incredible Professional … Trustworthy
Russ is an incredible professional and I cannot think of a single area of expertise he wasn't abreast of. Every question was answered promptly, accurately and pleasantly. He knows his market, he knows the industry and he knows people. He's able to meet people on their level without being condescending. I would, and have, recommended Russ to others who are looking for a good and trustworthy Realtor.
An Outstanding Realtor!
Russ did an outstanding job with our out-of-state move. He went over and beyond with all the online paper work and E-signing. He even took additional pictures of the home we saw online to help us make up our minds. He's great at his job and I would recommend him, he's an outstanding Realtor!!!"
Above and Beyond
My experience with Russ selling my mom's house for us was great. I'm in northern Idaho and he dealt with everything for me with out me having to go to Green Valley. I feel he went above and beyond the call of duty. I not only recommend him, I am going to use him to sell mom's other house. THANKS, Russ.
His knowledge was really helpful
Russ knows all the ins and outs of Sonora at Rancho Sahuarita and his knowledge was really helpful. I had already moved out of the area and he had good people lined up to fix up the minor things that were required in the inspection.
I would gladly recommend Russ…
Russ was very helpful with respect to the hunt and purchase of my home in Green Valley. I valued his input as far recommending homes and all the additional info as far as resources in the area. He had to deal with me being in Pennsylvania and handling most of the work long distance. He reviewed the potential homes based on my wants/needs and continually send me lists and updates. By the time I got to Arizona on vacation we went thru the list, visited sites and made a choice in one day. I would gladly recommend Russ to any possible client in the future. Can't thank him enough.
A+ service!
We listed our house to sell in Sahuarita with Russ. This was a long distance sale as we were out of state when we listed. Most everything was done over the phone and with online e-signing. Russ answered all questions very quickly and followed up with details and items that were needed for the seller at closing. A+ service!
Very professional
Russ was very helpful during the entire process. His online document signing and website were a hugh asset as we were moving from out of state. Very professional and aware of all the details we needed to know to be successful in our home purchase in Green Valley.
Best Realtor I ever had!
I listed my home with Russ and he had an offer for me within 7 days. I had listed with two other realtors with no success. I have bought and sold several homes in my lifetime and I will say that Russ is the best realtor that I have ever had.
I put my trust in him and he didn't fail me
I left the area early in the selling process, Russ handled everything for me and kept me informed about what was happening. He answered all of my questions promptly and did all of the extras that needed to be done. I put my trust in him and he didn't fail me. I do recommend him for handling the sale of your home, and for finding you one to buy.
Can't say enough good things about Russ…
J.M., Tucson AZ
Couldn't have asked for a better realtor!! Russ was very friendly and professional, very knowledgeable, great at negotiating and had a great strategy for everything. He kept us up to date and did all the heavy lifting for us. He took the time to find houses that matched our needs, took care of setting up our inspections and handled any issues that came up during the process. Russ made the house buying process smooth and stress free. Really can't say enough good things about Russ. We had zero complaints. We definitely recommend using Russ as your Realtor.
Total Confidence
Very professional approach to all aspects of our transaction. His handling of this purchase allowed us to have total confidence that we were being represented by the best real estate agent for us. I would have no reservations in recommending Russ Fortuno to anyone else looking for a Real Estate Agent!
Russ took care of everything…
He is very personable, knowledgeable and reliable. Anytime we had a question or concern, he was right there with the answer. Our buyers were from out of state and had only 1 week to see the house and schedule all inspections. It could have been very stressful for us, but Russ took care of everything in professional and timely manner.
Very organized
Very professional in his approach. Very organized in his scheduling of home tours and knowledgeable of Green Valley and Quail Creek. We highly recommend Russ for all of your real estate searches.
We recommend him to any one…
We found Russ to be very professional and informed on the details related to the market as well as the negotiating process. He was also prompt to respond to our calls and emails. We recommend him to any one considering having their home listed.
I couldn't have picked a better agent
All I can about Russ Fortuno is that he did a excellent job in the complete process of selling my home. I would recommend him to other people. He knows local knowledge and his process expertise was very good.He respond to all my question and kept me informed of any new items that came up. He did a excellent job in the negotiations with the buyer agent. I couldn't have picked a better agent to handle the sell of my property.
Represented ourselves and the buyer
Russ did a good job, in our case he represented both ourselves and the buyer. He sourced and managed a number of repairs to the house prior to the sale.
Keeps any drama from becoming dramatic…
M.L., Tucson AZ
Russ was always very responsive and returned calls in timely manner. Was extremely Calm and rational when going gets jiggy. Keeps any drama from becoming dramatic. His experience in executive management is an asset when dealing with the variety of challenges related to closing the sale. I Highly recommend him to handle complicated transactions.
It was a pleasure
Russ was very good to work with, patient with questions and showed me a number of properties. Russ was not pushy, always polite and showed me properties that fit with what I was looking for. It was a pleasure to work with Russ.